Hey there,
I'm setting up a secondary Master through the HA-feature provided by Icinga2 with the guide provided here: Distributed Monitoring - Icinga 2 and I have some questions regarding that (technical and general). In case I missunderstand something about the HA-feature, please let me now.
My zones.conf on the Master1 (srvv33):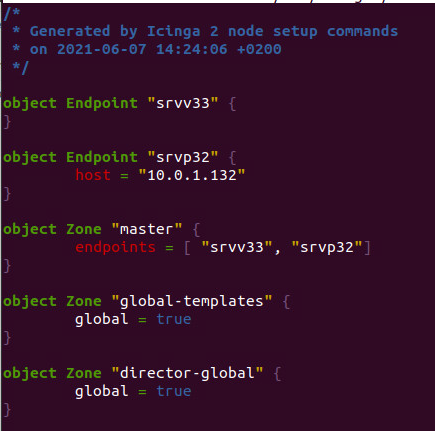 My zones.conf on the Master2 (srvp32):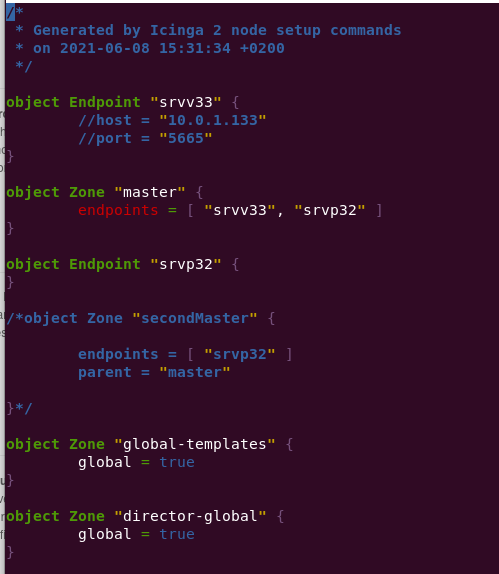 What I did until now:
Setting up both Icinga 2 Masters: The first one as Master, the second one as Satellite/Agent like defined in the guide.

I added the enable_ha = false line to the ido-mysql conf (both master write to their own db)

Both servers have the same features enabled and the rest of the config is similar.

I used the kickstart wizard on both servers after doing the changes and the icinga2 node wizard
command.
I'm a little bit confused now, how am I able to see if the sync is working as intened? The only thing installed right now on both servers are the director and the only changes I made are the one diplayed above. Is it functional like that?
What do I need to configure to be certain, that the Master 2 will manage things when the Master 1 happens to be down?
I only need to configure everything on the Master 1 and the second Master will receive it and write it to his DB, right? I don't need the second master to actively execute checks, I only need him as backup in case Master 1 fails. He needs to be up-to-date with Master 1 the whole time.
Then I made some wrong definitions on my second master with the node wizard, when running it more than once. I now have some zones in my director that are no longer visible on my zones.conf file and therefore not used. How can I remove them?
I already checked the topics Icinga2 director configuration in HA Master Setup and Implementing HA Master-Master setup
Hope to hear from you guys soon
Greetings