icingacli --version
Icinga Web 2 2.11.0
Git Commit 46998464ea9f9e3c2889d98f9fb6df639d972550
PHP Version 7.4.6
MODULE VERSION
director 1.8.1
doc 2.11.0
incubator 0.17.0
ipl v0.5.0
monitoring 2.11.0
reactbundle 0.9.0
translation 2.11.0
Icinga 2 version (icinga2 --version): icinga2 - The Icinga 2 network monitoring daemon (version: r2.13.4-1)
Operating System and version: openSuse15.3
I am new to Icinga2, and seeking help to clear pending changes.
I think the mistake is to delete the user without removing the dependencies first like, assgined template for that user, and user groups.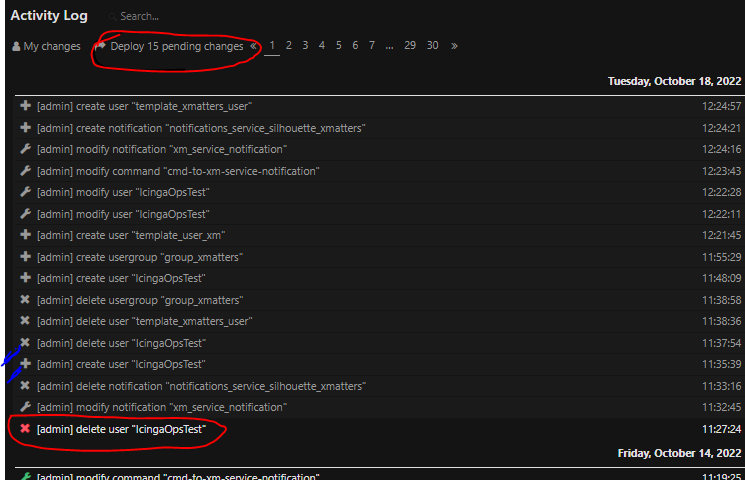 So, After deleting the user at first, I can Store other changes but deployment will fail with following API error when clicking Deploy pending changes:
API request failed: Conflicting request, There is already an ongoing package update in progress … (RestApiResponse.php:113)


I have tried to re-deploy the config from the previous week. ( marked in Blue, Oct14th) but same error.

I need help to resolve the problem. Related article : Pending changes in activity log
Thanks A Bunch.