Hello everybody!
I've been trying to get a Windows 2016 to generate a trap from an event log entry and I have some issues (It isn't working), let me pick up your collective mind.
I installed TrapDirector (1.0.6), all checks are green and test traps from localhost work OK. I copied some Windows mibs
Folder listing

$ ls -l /usr/share/icingaweb2/modules/trapdirector/mibs
total 212
6179 nov 30 10:45 ftp.mib
48593 nov 30 10:45 hostmib.mib
59909 dic  3 09:36 HOST-RESOURCES-V2-MIB.mib
698 jun 18  2013 inetsrv.mib
6100 nov 30 10:45 lmmib2.mib
581 jul 16  2016 msft.mib
22462 nov 30 10:45 rfc2571.mib
4411 nov 30 10:45 smi.mib
 26236 nov 30 10:45 wins.mib

Updating the MIBS returned a lot of "Unlinked OIDs" and "Did not find X in Y". Is this normal?
Windows AFAIK refuses to send any traps for the service start/stop event but every time I restart the machine it will generate a bunch of traps received by TrapDirector of "linkUp" type.Why are these traps being sent?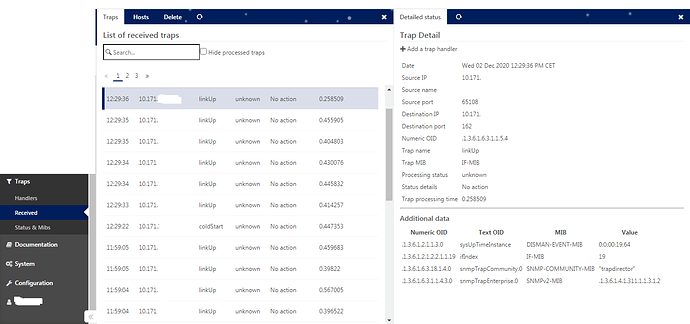 Finally if someone does know what I could be missing for W2016 to not generate the traps I setup (the events do keep appearing in the log) that would be quite welcome.
Versions

Program Version	2.11.3-1
Icinga web 2.8.2
PHP Version 7.3.11
trapdirector 1.0.6
director 1.7.2

Windows 2016 configured to send traps from specific Event Log entries (evntwin / evntcmd).
CentOS 7.7 with snmpd *receiving* traps