Hello,
I'm quite insecure about the distributed monitoring in my case:
I currently have a OnPrem Master running as a CentOS 8 Virtual Machine in our internal network (Icinga 2.13.2-1, web 2-9-5, director 1.9.0)
In a project we got new external hosted machines (ionos 1and1 monitoring is pretty limited and does not give me needed information)
I already setup an satellite instance of icinga in our DMZ-Network which works flawless in communication to internal network.
Here are my insecuritys are starting about the correct deployment:
I tried to setup the external hosted machine as additional satellite which has his parent to the DMZ satellite Instance (used our firewall to setup some rules that only the IP of the external hosted machine can access port 5665 to the dmz satellite)
After importing the new satellite to the master. I setup a new host which only is accessible from the external hosted machine but the hostalive check doesnt finish and is outstanding.
I didnt find something for stacking satellites, maybe its an design problem from my site. Here is a photo how I thought this design could work?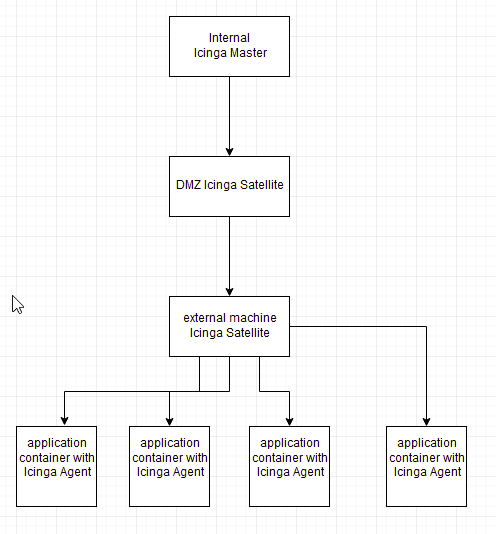 zones.conf from master:
`object Endpoint "dmz-satellite" {
}

object Zone "dmz-satellite" {
        endpoints = ["dmz-satellite"]
        parent = "internal master"
}

object Endpoint "external hosted server" {
}

object Zone "external hosted server" {
        endpoints = ["external hosted server"]
        parent = "dmz-satellite"
}
`

Im happy for every input and corrections