Hello,
my Name is Bjoern and this is my first post in this community.
I'am in the process of migrating our Icinga1 based monitoring system to Icinga2.
I will not try to convert the old config. Instead I am starting from scratch to get the most of the new system.
I've already taken some hurdles along the way, but now I need your help.
While setting up some checks for our network switches, I've observed something unusual (at least for me).
I'am using check_interfaces to check the port states and the bandwidth usage.
When the actual bandwidth usage is higher than the configured threshold the corresponding port shows a warning. The service itself shows OK as you can see in the picture.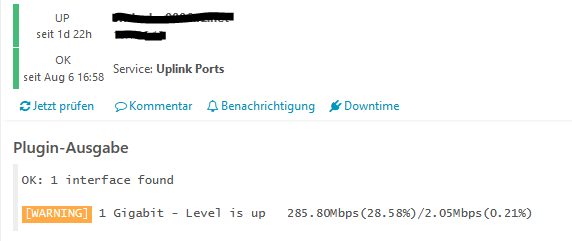 I'am not sure if the status is still showing OK because the check was able to retrieve the interface successfully. I'am confused about the overall result. I have expected that the status would change to warning. I have never seen something like this in Icinga1 and I was not able to find something related in the Icinga2 documentation.
Can someone please give me a hint if this is a expected behaviour?
What is to be changed to get the whole service in a warning state (and use it for notifications)?
Am I overlooking something?
Kind regards,
Bjoern