I am currently in the evaluation phase of icinga2, icingaweb2, director, graphite, … .
Problem:
I can't see charts in Icingaweb2. Only the message "Could not resolve host: icingaweb2" is displayed.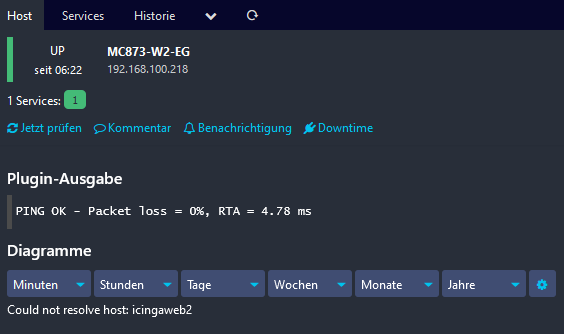 Situation:
Modules / Version
Icinga2 r2.13.7-1
Icinga Web 2 Version 2.11.4
director 1.10.2
doc 2.11.4
graphite 1.2.2
incubator 0.20.0
monitoring 2.11.4
PHP 7.4.33
Firefox 111.0
System information:
Platform: Debian GNU/Linux
Platform version: 11 (bullseye)
Kernel: Linux
Kernel version: 5.10.0-21-amd64
Architecture: x86_64
Icinga2, icingaweb2 and host work and collect data and send it to Graphite. I verified this via Graphite Web. I can also view the graphite data in Grafana. So I would say everything works except for the visualization of graphite diagrams in icingaweb2.
I hope someone can give me a tip to solve my problem.
Thank you