Hi, i m searching how to add "perfdata" to my plugins.
With other plugins like "ping" i have this :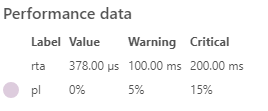 I want to add the same thing for my own check command but i didn't find the .conf file.
I found a diretory with +1000 file named xxxxperfdata but they are genereated every 15 seconds.
Do you know how can i modify perfdata and then modify warning/critical level ?
thanks