Hello,
I have installed icingaweb2 on the new server and I cant display ifont icons. All the rights to files are exactly the same as on the previous server.
Icinga Web 2 Version
2.8.2
Git commit
8a89839af94a247ee2149b2336c73b8251b477c0
PHP Version
7.1.30
Git commit date
2020-08-17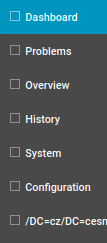 Icinga is installing ifonts with the package, so I guess that the problem won't be not installed fonts. Do you know, where should I find the cause of the problem?
Lukas