Hi!
I want to ask to export of ICINGA2 if is possible to develop a feature that enable the "reporting" functionality:


From ANYWHERE into ICINGAWEB2.
For example from DASHBOARD or FROM any PAGE.
I see that mostly in every page there is possibility to download the page: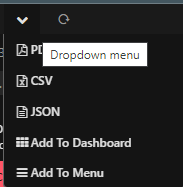 What About possibility to SCHEDULE - SEND like the reports ?
Anybody think that this can be usefull?
@moreamazingnick what do you think about this ? How much workload to develop?