Hello everyone
The Problem described in the title is something I'm working on for 2 months now without having found a solution to it, there could be similar problems to mine already, but my Situation stated below is something I haven't seen yet.
For a background Info: I'm totally new to Icinga and also new to this community forum, also I started directly with Icinga2 so I have no experience with Icinga1 whatsoever.
My Situation is as follows: I had to install Icinga2 from scratch (as rpm Packages with all the dependencies etc., because there is no internet connection for this host and there was no chance to get one) this Icinga2 host will take over for an older Icinga1 host (those are two different hosts). The person before me had all the knowledge of Icinga1 & 2 and constructed all the needed configurationfiles for Icinga2 (based on the old Icinga1 Instances configs) before departing, so the next person in charge wouldn't have to change or do that much, sadly the aforementioned lack of an Internet connection, the person in question not working here anymore, the config files being not complete etc. made it all a lot more complicated than it might be.
The thing in question is: Getting Notfications and most importantly of all snmptraps (which are configurated as Notifications) to work.
So here are some Informations about the host and the installation in general:
Icinga2 Version: 2.12.2-1
Icingaweb2 Version: 2.8.2
OS: Centos7
Dependencies: Python 2.7.5 and PHP 7.3.11 (I know those aren't all, but I don't know which dependencies are helpful/needed for your knowledge so if you need something specific, please just ask me and I will try to deliver everything I can.)
What have I tried so far: I looked up the official Documentation and Trobuleshooting sections for everything that had remotely (directly or indirectly) to do with notifications + I searched up a lot of icinga community posts about snmptraps and notifications, but then again, I'm a total rookie to Icinga2 so I can't really understand what is missing (or not) or what I actually have to do here, so bare with me if for you the solution might be crystal clear in the first place, for me it is not and I really need a bit of guidance when it comes to this.
I also have included two screenshots below, one for the daemon and one for the featurelist.
Output icinga2 daemon -C: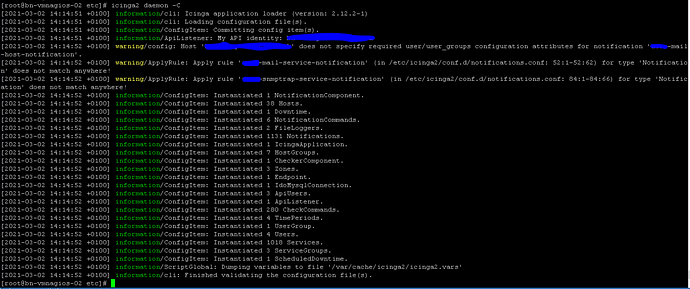 Output featurelist:


At this point I thank you in advance for your support, if you need anything more, please just ask ahead and I wish you a pleasent rest of the week.
Cheers,
Andy