Hello! I'm pretty new to the Icinga world and community, and while trying to install all the recommended resources to correctly run Icinga (with the help of a video-tutorial https://www.youtube.com/watch?v=XWEiu2Bn2OY&t=37s&ab_channel=SystemWatchers), when I got to the end of the Icinga Web 2 configuration on my browser it gave me the "Sorry! Failed to set up Icinga Web 2 successfully" showing me as errors the following screenshots: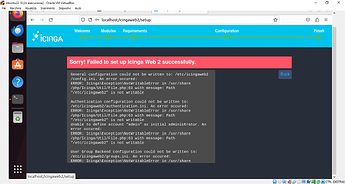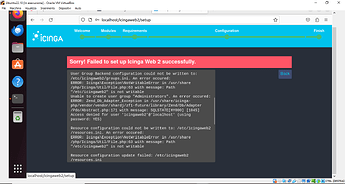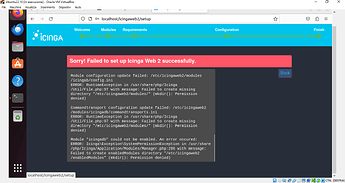 I looked up a few forums online but I can't seem to find the solution! Has anyone already experienced this before? If yes, please help me! Thank you very much!!
Some specs:
I'm running Icinga on a Ubuntu (22.10) VM on my Host Machine which is a Windows 10
Until this point everything seemed to work fine with all the other steps the tutorial followed
Thank you in advance!