Hi guys, im new to icinga, so i apologize if I am posting in wrong section.
After first two days of using it to monitor hosts and intermediate devices in our network, its absolutely great!

But as you expect i have small (beginner?) problem. Since i started icinga up, i have two hosts in our default Linux server group, which are the same server called Ares (or ares.ourdomain.com). Ares is the server icinga is running on, based on Debian GNU/Linux Stretch.
What i see in icinga web interface are two identical hosts for Ares, one on localhost, one on active interface.
The one on interface is defined in hosts.conf and is documented as "This is an example host based on your * local host's FQDN." I can edit this however i want, works great. But when i remove this hosts, icinga still shows Ares on localhost. I cant find where this host is defined, and i cant edit the checks and also i cant remove it.
What i found under the same name (ares.ourdomain.com) is zone and endpoint in zones.conf, but there is no way to edit the host (checks or whatsoever), and when i rename the Node icinga wont reload.
When i comment out all host from hosts.conf, the implicit Ares host on localhost is still present, but object list shows nothing
root@ares:/etc/icinga2# icinga2 object list --type Host
root@ares:/etc/icinga2#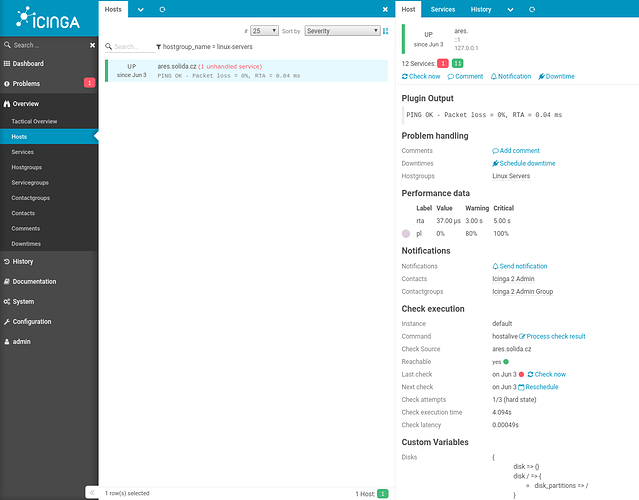 Is this some basic principle I dont see useful or is there a way to remove this "implicit" host? Thank you.