Master cluster with own databases
I would like to know what the best configuration for the following setup is. I read your documentation regarding distributed monitoring and could not find a setup with two database in which each master writes his own data.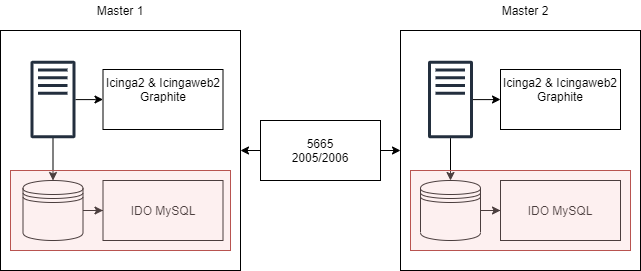 Why?
we would like to deploy those two masters in separate cloud enviroments. Therefore each master should write its data to a local database located in the corresponding cloud. But in case of a failover the remaining master should still be able to work on its own, with all the hosts and services which are setup over the full cluster.
Master 1 should be the configuration master and be able to also deploy hosts and services to be monitored from Master 2 (basically all interaction should be done through master 1). In case of a failover Master 2 should take over, he will be accessable all the time through a secondary DNS entry. In case of a longer outage of Master 1 the DNS entry will be switched pointing to Master 2 from there on.
Is such a scenario supported at all?
Has someone potentially configured a similar setup and could help me getting my head around this problem?