Greetings!
I'm facing an issue with the Graphite integration into Icinga I can't get my head around.
First, versions:
Running over Debian 9 Stretch
Icinga r2.10.5-1 from the Icinga repo
Icingaweb2 2.7.1
Graphite module version 1.1.0
Graphite-Web is working and I believe the graphite module works OK as I can see the metrics sent from Icinga: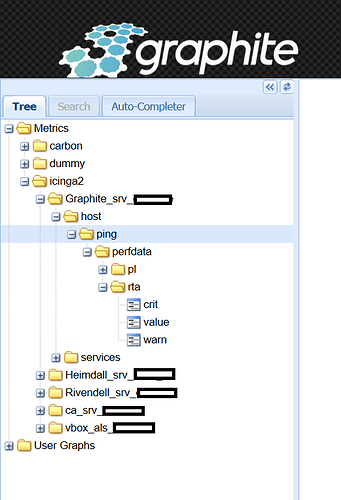 There currently is no authentication nor SSL on the Graphite server.
I have enabled the Graphite module in Icingaweb2. However, all I get is an empty frame:
On my Icinga server, I can see an error 500 in the Apache logs
172.16.0.2 - - [07/Sep/2019:22:55:49 +0200] "GET /icingaweb2/graphite/graph/service?host.name=Rivendell.srv.XXX&service.name=Users&service.check_command=d_linux_users&perfdata=users&default_template=default-service&start=-3600&end=&width=1900&height=220&cachebuster=102753222558013&legend=1 HTTP/1.1" 500 20030 "https://heimdall.srv.XXX/icingaweb2/monitoring/service/show?host=Rivendell.srv.XXX&service=Users" "Mozilla/5.0 (Windows NT 10.0; Win64; x64; rv:69.0) Gecko/20100101 Firefox/69.0"
(As you probably guessed, Heimdall is the name of the Icinga server)
Had a read through the module docs and the GitHub issues but could not find anything that relates.
Does it ring a bell with anyone? I suspect something stupid like a missing PHP module…