Once you register an account, Discourse guides you with the first steps.
You'll recognise the notification in the upper right corner and learn about discobot, a gentle bot which helps you to use this platform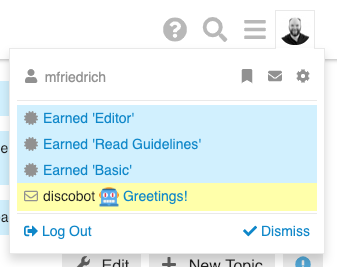 No more spoilers, try it out! Only one thing - you can earn a badge for completing the tutorial with discobot.
If you cannot find the private message, just send a new one to @discobot and include the following text:
@discobot start new user

Tip

Once you've completed the basic tutorial, start the advanced tutorial with @discobot start advanced user. This grants you a second badge