Hi everyone,
I already looked in this forum because of my problem and I also saw some similar issues but they were not solved or be cancelled.
distribution: Ubuntu 16.04 LTS
icinga2 version: v2.10.5
icingaweb2 version: 2.6.3
In our test-environment we wanted to build a HA setup with icinga2. Therefore we have 2 icinga2 master servers and one database server including icingaweb2.
master 1
master 2
(ido)db server with icingaweb2
It's already nearly working fine. The only problem is the external command transport configuration I think.
In our productive setup we are using the old method with the local icinga2.cmd file for the transport. In the test-environment I configured it as a API transport. It is working finde for the checks where the master1 is taking control of the checks. But if i want to check a service manually the webinterface get a failure. The message is "icinga2-master1: Can't send external Icinga command: 404 No objects found."

The services which are checked by the master1 server are correctly checked without any problems.
In didn't found a special example for HA setup - external command transport configuration so my intention was to do it like the documentation.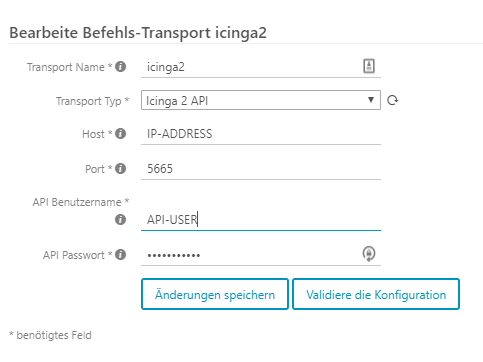 My question here is, that I can only insert one IP-Address (what's happening when this server is down!?) - so I have to add one additional transport configuration?! In the docs it is only used for combining different icinga2 configutrations within one icingaweb2 interface, isn't it?
I tested it also and I got another failure.
So what's the point here? How can I configure this setup that both master servers are working properly?
I hope you understand what i want and brought you the informations you need. If something is missing please let me know.