Hi Team,
We have successfully installed and configured the ICINGA2 and after final stage of the configuration getting the below error. Can any one help me on this.
Sorry! Failed to set up Icinga Web 2 successfully.
Successfully connected to existing database "icingaweb2"… Database schema already exists… Creating login "icingaweb2@localhost"… Failed to fully setup the database. An error occured: ERROR: PDOException in /usr/share/icingawe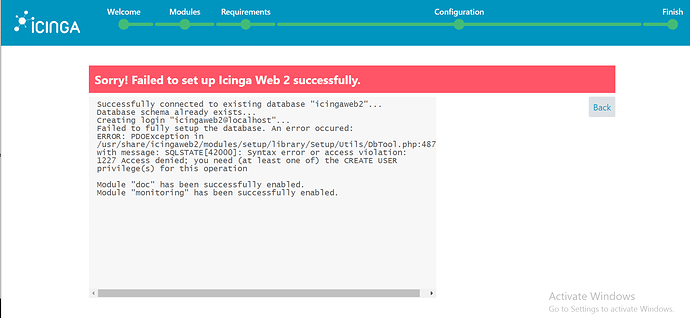 b2/modules/setup/library/Setup/Utils/DbTool.php:487 with message: SQLSTATE[42000]: Syntax error or access violation: 1227 Access denied; you need (at least one of) the CREATE USER privilege(s) for this operation Module "doc" has been successfully enabled. Module "monitoring" has been successfully enabled.