Hello everybody,
i do have an issue with one of my icinga2 checks.
I am checking a hardware machine (Proxmox VE 7.4) on its disks.
The problem i have, is it shows "disk critical" even though it is fine.
As visible on the added picture, at the header "Plugin Output" i do get a "disk critical" for 0 MB free space on "/".
And that even while a slight look down into "Performance data" there is the "/" with only 288 GiB out of 464 GiB full.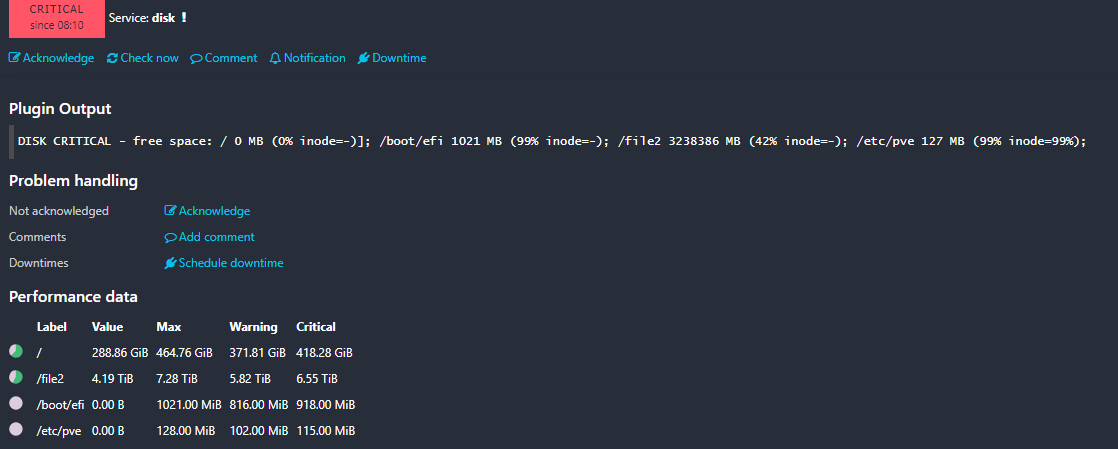 here the configs:
service check:
apply Service "disk" {
  check_command = "disk"
  command_endpoint = host.vars.client_endpoint
  assign where host.vars.linuxbasics
  assign where host.vars.windows
}

servers conf
object Host "srv-loc-pve2" {
  check_command = "hostalive"
  /* Import the default host template defined in `templates.conf`. */
  import "generic-host"

  vars.client_endpoint = name

  vars.proxmox = true
  vars.servers = true

  vars.all = true

  vars.linuxbasics = true
  vars.loc.w = true

  /* Specify the address attributes for checks e.g. `ssh` or `http`. */
  address = "192.168.40.101"
  address6 = "::1"

  /* Set custom attribute `os` for hostgroup assignment in `groups.conf`. */
  vars.os = "Linux"

  vars.disks["disk /"] = {
    disk_partitions = "/"
  }

  vars.procs_warning = "500"
  vars.procs_critical = "600"

  /* Define notification mail attributes for notification apply rules in `notifications.conf`. */
  vars.notification["mail"] = {
    /* The UserGroup `icingaadmins` is defined in `users.conf`. */
    groups = [ "icingaadmins" ]
  }
}

object Endpoint "srv-loc-pve2" {
    host = "srv-loc-pve2"
}

object Zone "srv-wis-pve2" {
    endpoints = [ "srv-wis-pve2" ]
    parent = "master"
}