Hello,
I took over Icinga2 from a former colleague and I'm struggeling with some things.
We have several commands that when looked at the preview you can see there is a script, like: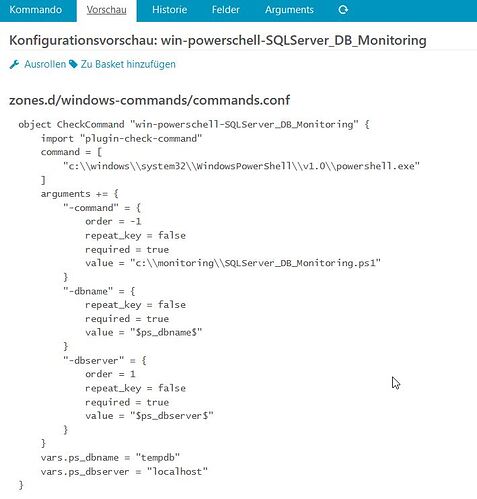 I found the commands.conf, that includes that script here:
/var/lib/icinga2/api/zones/windows-commands/director/commands.conf (windows-commands is one of our global zones)
But of course I can not add anything here. If I do so, the info is never shown in the Director and after an Icinga reload, or after a Director config deployment the file is clean of my changes.
So my guess is that I have to import a new script somehow, so it gets added to the mentioned commands.conf. Is that the case? And if so how do I do that?
Thanks for your input and best regards
Andre
Director version: 1.8.0
Icinga Web 2 version and modules: 2.8.2
Icinga 2 version: 2.12.4-1
Operating System and version: Ubuntu 18.04.1