Hello
I am back with another question - seeking guidance.
I am trying to automate multiple single service onboarding for postgres DB
I have a Host-Template → XXX_templhost_PG
In this Host-Template I have existing Postgres Single Service Already Deployed.
Now when a New Server comes needed for Postgres Monitoring - all we manually do from director is to add the XXX_templhost_PG Host-template for the server

Now automatically the Single Services Gets assigned for that server.
Question 1: How do I automate the step? Using director-api or icinga-api (if you can point out to the document or give a hint it will be great.
Now the next problem:
Once the services are assigned all single services gets distributed. But for PG the DBs are unique.
So for that server we have to override manually in director the service and populate the dbname field.
So for all the 10 services for Postgres lets say I want to override one field for that server with the value of the dbname which I have in a script already.
Question 2: Is there a director API which can help me to automatically override a field for a single service for a single server.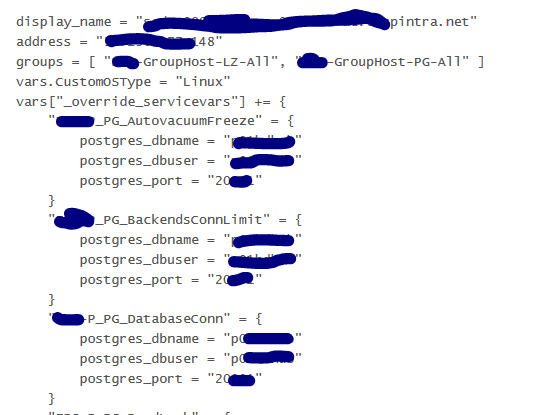 I have to override
postgres_dbname
postgres_dbuser
postgres_port
Regards
Anirban