There is a default Host Group called Linux Servers where the Icinga server gets placed by default.


I would like to add other linux servers to this host group, but I can not find a way to assign them to this group is it doesn't appear in the list of host groups.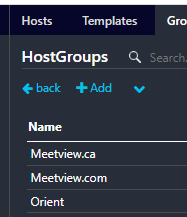 I have created other host groups and have successfully assigned server based on imported variables from AWS.

I would like to do the same concept but assign the servers to that built in Host Group.