Hello,
i ran into a strange issue. I'm using the NCPA plugin for windows service checks which is perfectly working fine.
Now I'm trying to add another Windows service "Citrix.AppLayering.Agent" to be checked on a host "issuedHost" which already has some NCPA service checks on it (BNPXE, BNTFTP, soapserver, StreamService, PVSTSB).
The service to be checked (Citrix.AppLayering.Agent) is added directly to the host variable "services_ctx" which will be read by the "ncpa_services_ctx" service.
But somehow this additional service check is not displaying the requested service "Citrix.AppLayering.Agent" in the Plugin Output even after restarting the icinga service.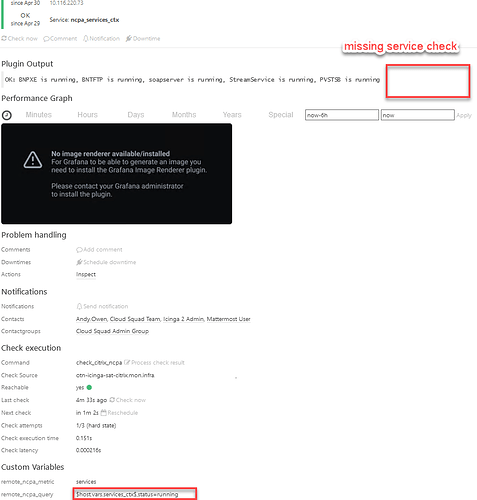 The windows service variable entry in even read in the icinga2 web …


Here is the configuration:
object Host "issuedHost" {
  check_command = "hostalive"
  address = "10.116.220.73"
  zone = "ac-citrix-zone"
  vars.zone = "ac-citrix-zone"
  vars.ncpa = "citrix"
  vars.os = "Win"
  vars.ctx_drives = [ "C", "G" ]
  vars.nics = [ "Ethernet1" ]
  vars.services_ctx = "service=BNPXE,service=StreamService,service=soapserver,service=BNTFTP,service=PVSTSB,service=Citrix.AppLayering.Agent"
  vars.warn = "80"
  vars.crit = "85"
}

apply Service "ncpa_services_ctx" {
  check_command = "check_citrix_ncpa"
  vars.remote_ncpa_query = "$host.vars.services_ctx$,status=running"
  vars.remote_ncpa_metric = "services"
  assign where host.vars.ncpa == "citrix" && host.vars.services_ctx
  command_endpoint = "otn-icinga-sat-citrix.mon.infra.domain.com"
}

#check if -q query is needed
object CheckCommand "check_citrix_ncpa" {
  import "plugin-check-command"
  timeout = 180
  command = [
    PluginDir + "/check_ncpa.py",
    "-H", "$address$",
    "-t", api_token,
    "-M", "$remote_ncpa_metric$",
   "-q", "$remote_ncpa_query$",
#   "-v", "-v",
    "--timeout", "180"
  ]
}