Not sure if that's a problem with Icinga2 or Icinga Director.
After creating a host and deleting a host again via Director API, the monitoring was completely empty.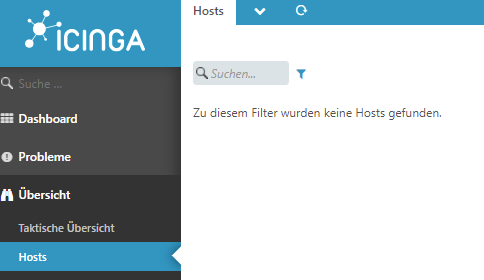 OS:
NAME="Red Hat Enterprise Linux Server"
VERSION="7.9 (Maipo)"
ID="rhel"
ID_LIKE="fedora"
VARIANT="Server"
VARIANT_ID="server"
VERSION_ID="7.9"
PRETTY_NAME="Red Hat Enterprise Linux Server 7.9 (Maipo)"
ANSI_COLOR="0;31"
CPE_NAME="cpe:/o:redhat:enterprise_linux:7.9:GA:server"
HOME_URL=""
BUG_REPORT_URL=""

REDHAT_BUGZILLA_PRODUCT="Red Hat Enterprise Linux 7"
REDHAT_BUGZILLA_PRODUCT_VERSION=7.9
REDHAT_SUPPORT_PRODUCT="Red Hat Enterprise Linux"
REDHAT_SUPPORT_PRODUCT_VERSION="7.9"
Icinga2 Version:
Installed Packages
Name : icinga2
Arch : x86_64
Version : 2.12.3
Release : 1.el7.icinga
Size : 53 k
Repo : installed
From repo : icinga-stable-release
Summary : Network monitoring application
URL : https://www.icinga.com/
License : GPLv2+
Description : Meta package for Icinga 2 Core, DB IDO and Web.
Icinga Web2 Version:
Installed Packages
Name : icingaweb2
Arch : noarch
Version : 2.8.2
Release : 1.el7.icinga
Size : 7.6 M
Repo : installed
From repo : icinga-stable-release
Summary : Icinga Web 2
URL : https://icinga.com
License : GPLv2+ and MIT and BSD
Description : Icinga Web 2
Icinga Director Version and Installed Moduls:
MODULE VERSION
businessprocess 2.3.0
director 1.6.2
doc 2.8.2
downtimes 1.0.7
graphite 1.1.0
ipl v0.5.0
monitoring 2.8.2
Debug Logs:
[2021-02-04 12:31:12 +0100] notice/ApiListener: New HTTP client
[2021-02-04 12:31:12 +0100] information/HttpServerConnection: Request: GET /v1/ (from [10.140.7.4]:48830), user: root, agent: , status: OK).
[2021-02-04 12:31:12 +0100] information/HttpServerConnection: Request: GET /v1/config/packages (from [IP-ICINGA]:48830), user: root, agent: , status:
 OK).
[2021-02-04 12:31:12 +0100] information/HttpServerConnection: Request: DELETE /v1/config/stages/director/66f7adc8-c884-4e57-8813-77b93f818b5f (from [1
0.140.7.4]:48830), user: root, agent: , status: OK).
[2021-02-04 12:31:12 +0100] information/HttpServerConnection: Request: GET /v1/config/packages (from [IP-ICINGA]:48830), user: root, agent: , status:
 OK).
...
...
[2021-02-04 12:31:13 +0100] notice/IdoMysqlConnection: Deactivate deleted object name1: '<OBJECT>'
[2021-02-04 12:31:13 +0100] notice/IdoMysqlConnection: Deactivate deleted object name1: '<OBJECT>'
[2021-02-04 12:31:13 +0100] notice/IdoMysqlConnection: Deactivate deleted object name1: '<OBJECT>'
[2021-02-04 12:31:13 +0100] notice/IdoMysqlConnection: Deactivate deleted object name1: '<OBJECT>'
[2021-02-04 12:31:13 +0100] notice/IdoMysqlConnection: Deactivate deleted object name1: '<OBJECT>'
[2021-02-04 12:31:13 +0100] notice/IdoMysqlConnection: Deactivate deleted object name1: '<OBJECT>'
[2021-02-04 12:31:13 +0100] notice/IdoMysqlConnection: Deactivate deleted object name1: '<OBJECT>'
[2021-02-04 12:31:13 +0100] notice/IdoMysqlConnection: Deactivate deleted object name1: '<OBJECT>'
...
[2021-02-04 12:31:13 +0100] debug/IdoMysqlConnection: Query: UPDATE icinga_objects SET is_active = 0 WHERE object_id = 432
[2021-02-04 12:31:13 +0100] debug/IdoMysqlConnection: Query: UPDATE icinga_objects SET is_active = 0 WHERE object_id = 433
[2021-02-04 12:31:13 +0100] debug/IdoMysqlConnection: Query: UPDATE icinga_objects SET is_active = 0 WHERE object_id = 434
[2021-02-04 12:31:13 +0100] debug/IdoMysqlConnection: Query: UPDATE icinga_objects SET is_active = 0 WHERE object_id = 435
[2021-02-04 12:31:13 +0100] debug/IdoMysqlConnection: Query: UPDATE icinga_objects SET is_active = 0 WHERE object_id = 436
[2021-02-04 12:31:13 +0100] debug/IdoMysqlConnection: Query: UPDATE icinga_objects SET is_active = 0 WHERE object_id = 437
[2021-02-04 12:31:13 +0100] debug/IdoMysqlConnection: Query: UPDATE icinga_objects SET is_active = 0 WHERE object_id = 438
[2021-02-04 12:31:13 +0100] debug/IdoMysqlConnection: Query: UPDATE icinga_objects SET is_active = 0 WHERE object_id = 439
[2021-02-04 12:31:13 +0100] debug/IdoMysqlConnection: Query: UPDATE icinga_objects SET is_active = 0 WHERE object_id = 440
[2021-02-04 12:31:13 +0100] debug/IdoMysqlConnection: Query: UPDATE icinga_objects SET is_active = 0 WHERE object_id = 441
[2021-02-04 12:31:13 +0100] debug/IdoMysqlConnection: Query: UPDATE icinga_objects SET is_active = 0 WHERE object_id = 442
[2021-02-04 12:31:13 +0100] debug/IdoMysqlConnection: Query: UPDATE icinga_objects SET is_active = 0 WHERE object_id = 443

After a restart of the Icinga server, all hosts were back in Icingaweb2
Logs after restart:
[2021-02-04 21:42:03 +0100] debug/IdoMysqlConnection: Query: UPDATE icinga_objects SET is_active = 1 WHERE object_id = 965
[2021-02-04 21:42:03 +0100] debug/IdoMysqlConnection: Query: UPDATE icinga_objects SET is_active = 1 WHERE object_id = 1338
[2021-02-04 21:42:03 +0100] debug/IdoMysqlConnection: Query: UPDATE icinga_objects SET is_active = 1 WHERE object_id = 1621
[2021-02-04 21:42:03 +0100] debug/IdoMysqlConnection: Query: UPDATE icinga_objects SET is_active = 1 WHERE object_id = 332
[2021-02-04 21:42:03 +0100] debug/IdoMysqlConnection: Query: UPDATE icinga_objects SET is_active = 1 WHERE object_id = 964
[2021-02-04 21:42:03 +0100] debug/IdoMysqlConnection: Query: UPDATE icinga_objects SET is_active = 1 WHERE object_id = 1245
[2021-02-04 21:42:03 +0100] debug/IdoMysqlConnection: Query: UPDATE icinga_objects SET is_active = 1 WHERE object_id = 948
[2021-02-04 21:42:03 +0100] debug/IdoMysqlConnection: Query: UPDATE icinga_objects SET is_active = 1 WHERE object_id = 1114
[2021-02-04 21:42:03 +0100] debug/IdoMysqlConnection: Query: UPDATE icinga_objects SET is_active = 1 WHERE object_id = 1027

Icingaweb2 → Icinga Director → Activitiy log → Deployments